Happy Tails A Waggin
1230 W. Bristol Rd.
Flint Mi. 48507
810-238-7485
Facebook.com/HappyTailsFlint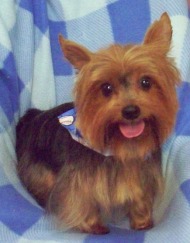 Happy Tails A Waggin is Family owned and operated. We have over 30 years in the pet care industry.

We are are very proud of our Facility. One of the unique aspects of our facility is that we live on the premises. It is a true home away from home. We have both indoor and outdoor activities for your dog. All interaction is in a SAFE, CLEAN and LOVING environment.

We offer Grooming, Daycare and Boarding.
We specialize in Doggie Behavior and have dedicated ourselves to the proper handling and training of all dogs.

Gooming
Your dog can enjoy a day at the spa. We use all natrual products. We have specialty baths. Aroma Therapy's and Hot Oil Treatments. Your dog is always hand blown dry. Your dog is always in climate controlled environment and when crated has a soft blankie to lie upon. All Grooms include your dogs bath, anal glad release, hand blown dry, hair style, ear cleaning, pads and nails.
Daycare
Your dog can enjoy a day at doggie daycare. He/She will be in a supervised environment where dogs will play in appropriate play groups off leash. Basic obedience commands (heel, sit, stay, wait, back, come) will be re-enforced throughout the day. Your dogs social skills will increase and your dog will be tired at the end of the day.

Boarding
Your dog will love spending his vacation at Happy Tails. We are not your kennels of yesterday. We are about Fun. Doggie Style Fun! Just like Daycare, while your pet is boarding he will be in an off leash supervised environment. So, if you are looking for that special place to leave your dog while you are traveling. A place where he/she can romp in the yard and snooze on the couch. Look no further. Happy Tails is that place. No matter what your needs are....have peace of mind that your dog has found a home away from home.
---